tours
Tour Calendar -Cycling, Kayaking, Running-
We also have Kayaking and Running tour!
We are running several different routes, Please see "TOUR" page for the details of each tour.
■Tours are available. ■Nearly Full. ■FULL sorry!! ■Extra Tour (Running and Kayaking).
\ Sincere request /
Please send us an e-mail or a call if you cancel the tour. We won't charge you any fee, but please remember there might be some more people on the waiting list wanting to take that tour! Thank you for your cooperation!
why Tokyo Great Cycling Tour ?
Our tour is more for general tourists, not for serious cyclists. If you can ride a bike, why don't you try TGCT to discover another side of Tokyo?
Skilled and friendly Guides
Since 2006, we have guided over 10,000 guests from over 70 countries.
comfortable Office
Equipped with free luggage storeage, free wifi, shower (please bring your own towel). And there's BEER PARTY after the tour !!
From Babies to Adults
We have child seats and trailers, small bikes for children. So don't hesitate to participate with family. See "FAQ" for futher infomation. Our eldest guest is over 70 !
always new route
Find something new; TGCT now offers 7 routes, and there will be more to come! Everytime you visit Japan, you will find new spot.
news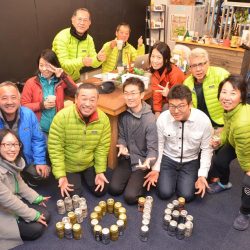 This year, 2016 will be our 10th anniversary ! We are now getting ready to carry out some campaigns, so please look forward for it !
Previous
Next