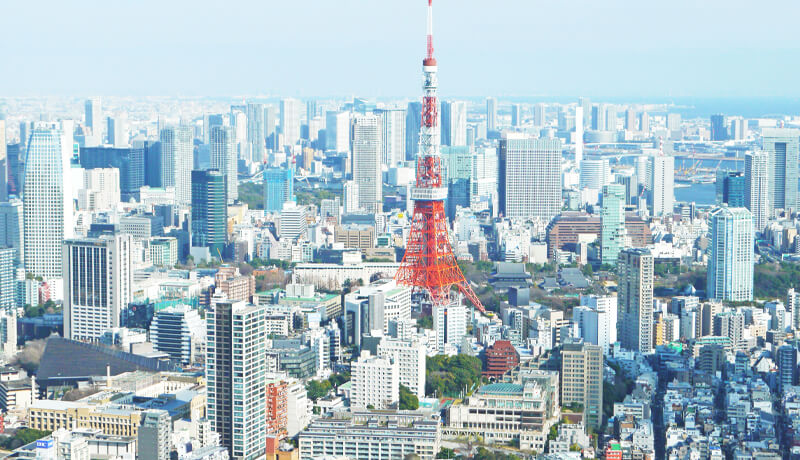 Tokyo is huge city. It does not mean the size of Tokyo but Tokyo actually have many areas and each of them has different atmosphere, characters and charm. So, it is difficult to answer "Where is the CBD or downtown of Tokyo?" The following is the list you should not miss to visit while you are here. Some of them are quite classic and some are still not so famous. We will introduce 22 must visit places including their historical and cultural back ground.
About Us
Tokyo Great Cycling Tour is cycling tour operator offering guided bike tour in Tokyo since 2006. We receive a 5 rating of TripAdvisor.
Must visit places in Tokyo introduced by TripAdvisor's 5-rating tour operator
1. Asakusa, Sensoji Temple, Nakamise shopping street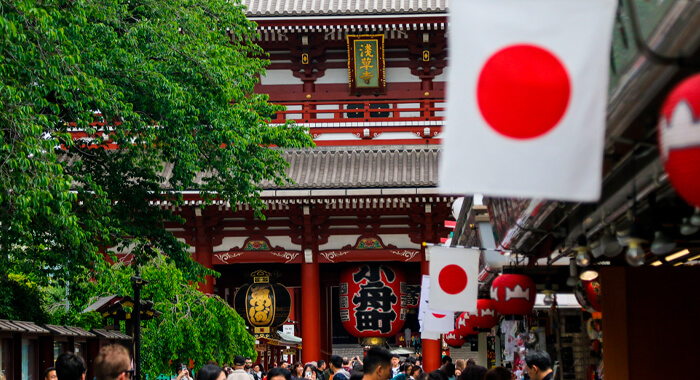 Asakusa (浅草) area is the most popular sightseeing spot in Tokyo in terms of the number of visitors said to be more than 30 million annually. Asakusa has been developed centralizing Tokyo's oldest temple Sensō-ji (浅草寺) of which origin can be traced back to circa 14 hundred years ago when a couple of fishermen brothers found a statue of Kannon Bosatsu (Avalokiteśvara) in the Sumida River in 628 AD.
Since the first temple built in 645 AD, Senso-ji had been burned down several times and the latest refurbishment was completed in 2010 when the temple's roof tiles became lighter and stronger titanium, while keeping authentic and historic image of the temple.
There are many entrance gates to Senso-ji but the most popular one is Kaminarimon (雷門) or "thunderbolt gate" featuring a huge paper lantern painted in red and guarded by a pair of Buddhism fighting gods; Fujin or "wind god" and Raijin or "thunderbolt god".
Passing through the Kaminarimon leads to Nakamise-dori (仲見世通り) with many shops (89 shops) dealing with Japanese traditional sweets and such souvenirs as kimono, folding fans, toy swords, sake cups, t-shirts and so forth. Then following is the Hozomon or "Treasure House Gate" with a pair of massive straw sandals, the gate to the inner complex of the temple featuring a five-story pagoda and the main hall devoted to Kannnon Bosatsu.
Although most of Buddhism temples and Shinto Shrines provide Omikuji or "fortune telling papers" in Japan, Senso-ji is one of limited number of temples and shrines that those in English are available. After inserting 100 yen coin into a slit, shake a tin bottle to get a stick with a number. Once you open a drawer box corresponding to the number, a paper telling your fortune is there! If you like the fortune told, you can take it home but if the fortune is bad ones, you had better tie the paper to special shelves so that the monks pray for you. Senso-ji is notorious for the high probability of drawing bad fortune but don't worry, it
gives you more chances for you to be luckier by leaving your bad fortune behind to the monks!
In Asakusa, adjacent to the temple is a Shinto shrine named Asakusa Shrine. It enshrines three people who found Kannon Bosatsu, fisherman brothers and the elder of the city. Asakusa Shrine host Sanja Matsuri festival every May. This festival is Tokyo's largest and the most popular one.
Getting there
5 minutes walk from Asakusa station of Tokyo Metro Ginza Line, Toei Asakusa Line, Tobu Skytree Line, Tsukuba Express
Open Hours
Main hall: 6:00 to 17:00 (from 6:30 from October to March)
Temple grounds: Always open
Fee
Free admission
2. Ryogoku, Sumo wresting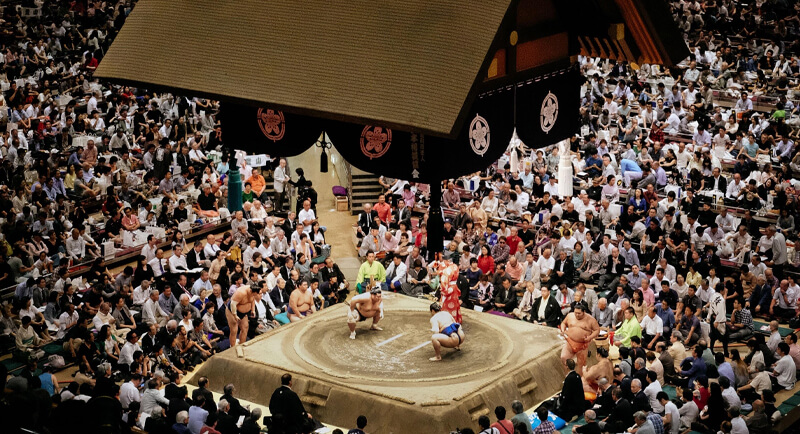 Ryogoku (両国) is named after the old bridge built in 1659, called Ryogoku Bridge where "ryo" means "two" or "both" and "goku" means "provinces". Two provinces are Edo province and Shimousa province divided by Sumida River and Ryogoku Bridge connects these two provinces.
Ryogoku is also known as Sumo wrestling town since Kokugikan or "National Sumo Stadium" is located in front of Ryogoku station. The Sumo tournaments are held in Kokugikan three times a year in every January, May and September. When the tournaments are in session, colorful banners with popular Sumo wrestlers' names on are decorated along the fence of Kokugikan stadium. There are many Sumo wrestlers stables (Sumo training quarters) in Ryogoku area. Unless wrestlers travel out of Tokyo for other tournaments, some Sumo stables allow the audiences to watch the practicing as far as you don't bother them.
If you are interested in learning the history of Tokyo, Edo-Tokyo museum is recommendable located near Ryogoku station.
Getting there
JR Soubu Line, Toei Oedo Line Ryogoku station Edo-Tokyo Museum
Open Hours
9:30 am – 5:30 pm ( Sat. until 7:30 pm)
Admission
600 yen (College student 480 yen, high school student and over 65 300 yen, Primary school or younger free)
3. Odaiba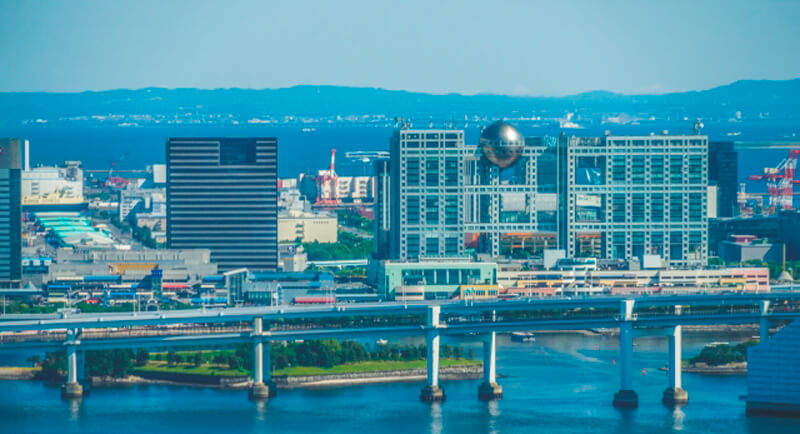 Odaiba (お台場) is one of manmade islands in Tokyo accessible by subway, monorail, water bus and cars on top of walking and biking. Odaiba literally means "fort" or "platform" in Japanese as 6 cannons were set on manmade islands in 1853 to get prepared for potential battle against Commodore Matthew Perry of U.S. Navy.
In 1980's, Odaiba started to be developed as a commercial area but as the Japanese bubble economy was burst in early 90's, the development was derailed. The development resumed after the turning new century and Odaiba has now become a big commercial area eventually. Those facilities there include a convention center called Tokyo Big Sight, many hotels, office buildings including Fuji TV Head Quarters. Odaiba is also popular entertainment district with a number of big shopping malls, museums and even indoor Onsen facility called Odaiba Oedo Monogatari.
Odaiba has unique beach where you can enjoy picnic, basking in the sun, and wind surfing. Although the beach will be the venue of open-water swimming in Tokyo Olympic Games in 2020, the swimming is not allowed usually so far.
Getting there
By train Yurikamome Line (Monorail) , Rinkai Line By waterbus Odaiba Line
4. Nihombashi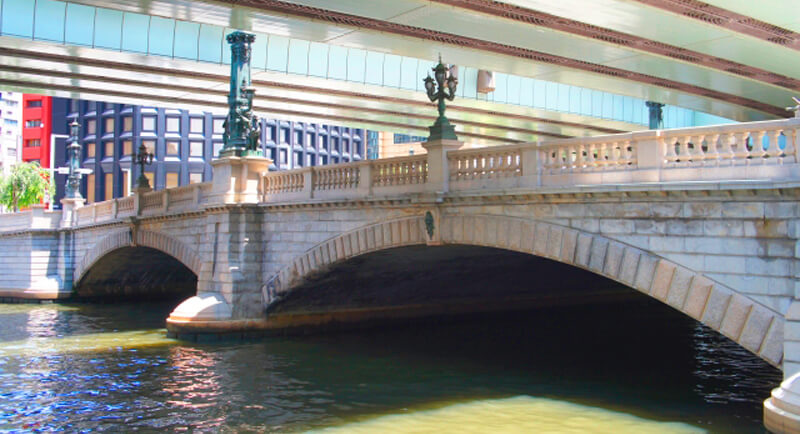 Nihombashi (日本橋) is Tokyo's CBD a popular shopping, commercial and financial area. The name Nihombashi literally stands for "Japan (Nihom) Bridge (bashi)" since the center of the bridge has long been the zero mile marker of Japan's major trails and now national highway network since 17th century.
Having long been the center of Japan, there is a number of shops with centuries-long histories still popular in Nihombashi district and one of them is Mitsukoshi department store, Japan's first department store. Mitsukoshi started its business as a kimono retailer in 17th century and later became the origin of powerful Mitsui conglomerate, one of three giant Zaibatsu in Japan paralleling with Mitsubishi and Sumitomo.
Since Nihonbashi was reasonably close to Edo Castle and the river running under Nihombashi was connected with Japanese water traffic system, a big fish market was built at the ridge of the bridge in Edo Period but it had to move to Tsukiji due to devastation by Kanto Great Earthquake in 1923.
The bridge is covered by the metropolitan motorway having been built for Tokyo's first Olympic Games in 1964 and there is a plan to move it under the bottom of river to get back the blue sky over the bridge is being discussed.
Getting there
Tokyo Metro Ginza Line, Tozai Line, Toei Asakusa Line (Nihombashi station) Tokyo Metro Hanzomon Line, Ginza Line (Mitsukoshimae station)
5. Ningyocho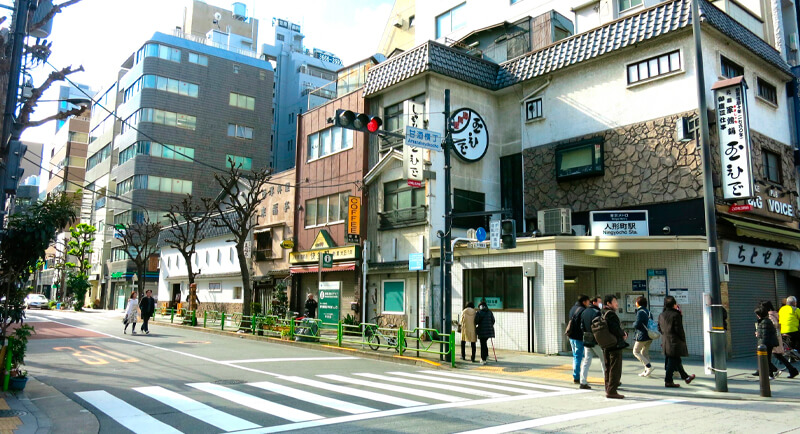 Ningyocho (人形町) literally means a town of dolls and puppets. In Edo era, Ningyocho was very popular place for the birthplace of Edo Kabuki Theater and puppet shows. There were many puppet theaters and so were doll makers and puppeteers in this town.
Although you can no longer find any puppet theater now, Ningyocho is still popular as a town of long traditions including but not limited to long-standing Japanese restaurants such as Imahan for Sukiyaki and Tamahide for oyakodon, traditional craft shops, Japanese sweets shops, goods and gears relative to tea ceremonies etc.
The town is adjacent to Suitengu Shrine bringing good fortune for safe birth of babies and childrearing. Many pregnant women and their families come to worship at the shrine.
Getting there
Tokyo Metro Hibiya Line, Toei Asakusa Line (Ningyocho station)
6. Kagurazaka

Kagurazaka (神楽坂) literally means a slope where Gods are enjoying themselves or a slope where dance and music are dedicated to Gods.
In Edo era, Kagurazaka was located just north of Edo Castle's outer moat and became famous for numerous geisha houses and restaurants entertaining Shogun and his officials commuting to/from the house of Mr. Sakai, a top-ranked elder councilor to the Shogun, whose mansion was located at the top of the slope. Some of these geisha houses and restaurants are still there to date in the district's narrow alleys and you can hear the sounds of shamisen, three-strings Japanese guitar.
Beside traditional Japanese restaurants, Kagurazaka has gained huge reputation for excellent international cuisine headed by French and Italian. The total number of Michelin stars gained by the restaurants in this small district counts as many as 21 as of 2018.
Having popular Buddhism temple of Zenkoku-ji intimately called Bishamon and Shinto shrine of Akagi Jinja on top of many other smaller temples and shrines, there are number of festive events in Kagurazaka year around including Kagurazaka Odori where the geisha ladies in this district perform dances, songs and music in
April and Awa Odori featuring famous dancing and music festival originally from Tokushima Prefecture in July.
Getting there
JR Soubu Line, Tokyo Metro Yurakucho Line, Namboku Line, Tozai Line, Toei Oedo Line (Iidabashi station)
7. Akihabara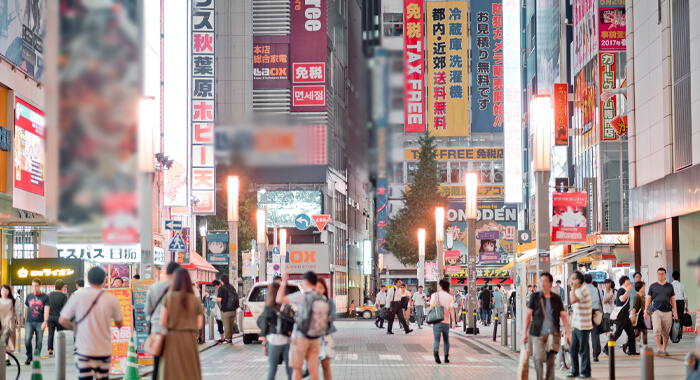 Akihabara (秋葉原) started to develop as Electric Town where many shops dealing with electric appliances and communication equipment gathered in 1950's. More recently, the town transformed as the mecca of Otaku or "geek" interested in manga and anime as well as computer games in 70's and 80's and now you can see such other Otakish interests as unique cafes featuring Maids, Butlers, Cats, Rabbits, Hedge Hogs, Owls and so on.
Getting there
: JR Soubu Line, Yamonote Line, Keihin Tohoku Line, Tokyo Metro Hibiya Line, Tsukuba Express Line
8. Yanaka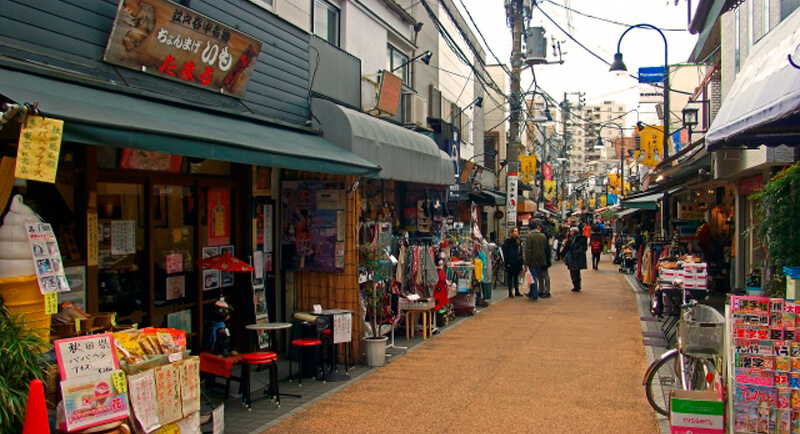 Although substantial areas of Tokyo have been devastated by earthquakes, fire, air-raid or any of the combination, Yanaka (谷中) is one of the few districts having survived and kept the original Shitamachi atmosphere, an old town ambience.
Yanaka is located north-east of Edo Castle which is unlucky direction in Buddhism wherefore many temples were built in Yanaka and Ueno. The number of temples in Yanaka counts more than 70 and about the same number of cemeteries as they are attached to the temples. In the biggest cemetery in Yanaka, the dead bodies of many celebrities were buried including the last shogun of Edo era, Yoshinobu Tokugawa.
Yanaka is also famous for Yanaka Ginza, a 175-meter shopping street best representing Shitamachi flavor with about 70 shops dealing with Japanese sweets, toys, groceries, souvenirs and so on.
The scenery in the evening from Yuyake Dandan or "steps of sunset" is said to represent the best nostalgic Shitamachi atmosphere.
Yanaka remains a residential district where many locals live, and through Yanaka Ginza starting with Yuyake Dandan, visitors can observe the
ongoing daily activities and trades carried out in the district market. The unique Shitamachi atmosphere is even more strengthened when visitors are surrounded by many lovely cats wildly living or publicly fed by the community.
Getting there
5 minutes walk from Nippori Station of JR Yamanote Line, Joban Line, Toei Toneri Line and Keisei Line
Five minutes walk from Sendagi station of Tokyo Metro Chiyoda Line
9. Tsukiji Outer Market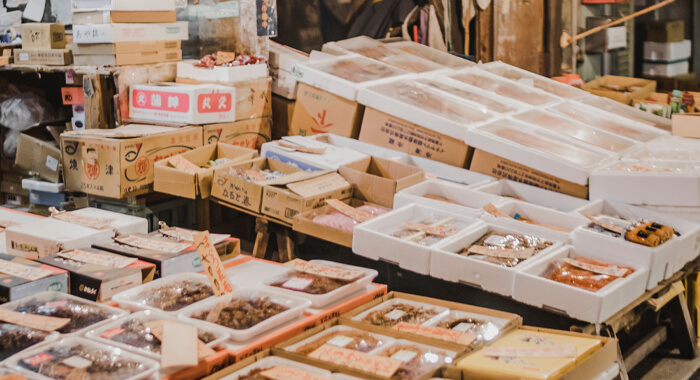 Tsukiji (築地) Fish Market had long been "Stomach of Tokyo" since 1925 when the original fish market in Nihombashi moved to Tsukiji due to fire caused by the Great Kanto Earthquake in 1923.
Even after main market moved to Toyosu in 2018, Tsukiji Outer Market adjacent to the former main market remains even more popular and lively. It consists of a few blocks of various shops relative to sushi and fish ranging from tamagoyaki or "Japanese omelets", icecream, takoyaki or "octopus balls" to nice knives for cutting fish, dashi shops dealing with dried kelp and bonito and so on and so forth. There are number of nice restaurants including 24-hour sushi restaurants and narrow alleys connecting these shops and restaurants are very crowded in most time.
All the buildings in the former main market have now demolished and the place will be utilized as a parking place until the end of Tokyo Olympic/Paralympic games in 2020 and will be reborn as new office/residential district towards mid-20's.
Getting there
1 minute walk from A1 exit of Toei Oedo Line (Tsukiji Shijyou station)
1 minute walk from exit No. 1 or 2 of Tokyo Metro Hibiya Line (Tsukiji station)
5 minutes walk from exit No. 5 or 6 of Tokyo metro Hibiya Line and Toei Asakusa Line (Higashi Ginza station)
10. Toyosu Market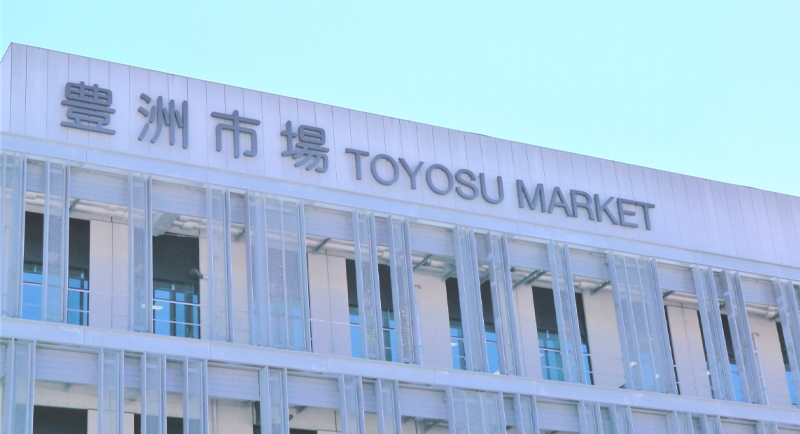 Toyosu (豊洲) Market opened in October 2018 on the man-made island on Toyosu in Tokyo Bay. With its opening, Toyosu Market took over the functions of wholesale business of seafood, vegetables and fruits and providing the tourists with the opportunities to observe famous tuna auctions and other actions from Tsukiji Market.
The large modern wholesale market consists of three main buildings: two buildings for seafood and one for vegetables and fruits. All buildings are connected with each other and Shijo-mae Station of mono-rail via walkways, and tourists can enter them along dedicated routes.
In one of the buildings for seafood on north side, the tourists can observe the tuna auctions taking place from around 5:30 am for about one hour. There is no limits on the number of tourists to view the auction different from former Tsukiji Market, so the tourists don't have to get the market as early as 4am but just before the auctions start.
Most of the market actions slow down before noon although the restaurants and shops are open till evening. The market is closed on Sundays and national holidays as well as most of Wednesdays.
Getting there
Yurikamome Line (monorail) Shijo-Mae station
11. The Imperial Palace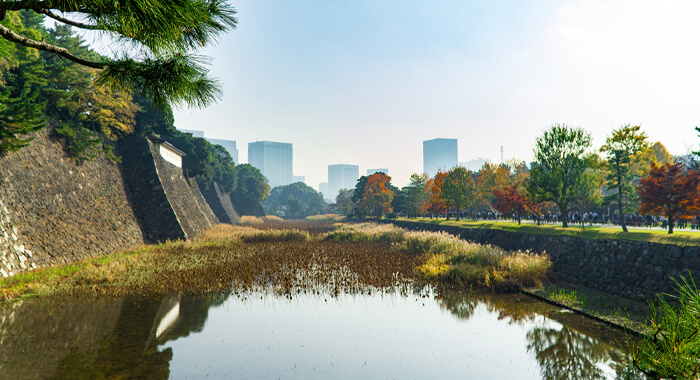 The Imperial Palace (皇居) is the office and the residence of the Emperor and Empress of Japan in the center of downtown Tokyo. The Palace was built on the former site of Edo Castle from which Tokugawa Shogunate governed the country for about 260 years since early 17th century.
The Palace is divided into three areas: Fukiage Gyoen or Imperial office and residence area, Higashi Gyoen park and Kitanomaru park. Imperial office area is open for public twice a year. One is the on January 2 and the Emperor's birthday (December 23 until 2018 and February 23 from 2019 onwards). On these occasions, people come into the Palace through the main gate and celebrate the new year and the birthday chanting "a Happy New Year" or "Happy Birthday" and "Long Live, Emperor". The tourists can join guided tours inFukiage Gyoen with priot reservations.
Higashi Gyoen park is where the castle tower of Edo Castle existed in early 17th century and now open daily from 9am to 4/5pmexcept on Mondays and Fridays.
The main facility in Kitanomaru park is Budokan Stadium or "martial arts stadium" originally built for Judo matches in Tokyo Olympic games in 1964. Budokan is widely known as where popular singers and musicians hold concerts and those having had concerts here include Beatles, Madonna, Michael Jackson, Men at Work and so forth. Kitanomaru Park is open daily without particular closing time.
Getting there
15 minutes walk from No. 6 exit of Nijubashi station of Tokyo Metro Chiyoda Line or D2 exit of Otemachi station of Toei Mita Line
20 minutes walk from Marunouchi central exit of JR Tokyo station
12. Ginza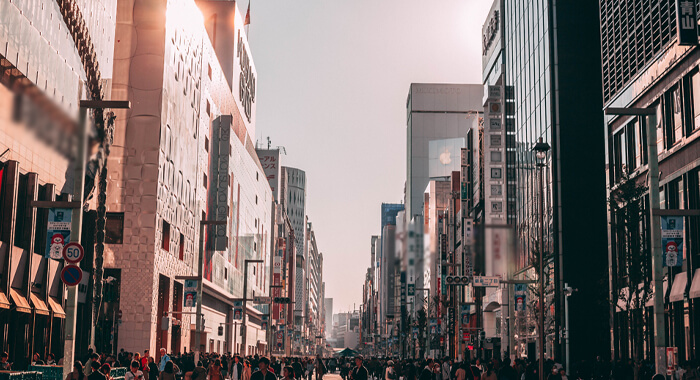 Ginza (銀座) is the most prestigious shopping, dining and entertainment district with a number of global leading brand shops, department stores, tailors, boutiques, art galleries, restaurants, cafes and night clubs.
Ginza literally means "silver mint" in Japanese was named with the fact that there was a silver coin mint in this area for about 200 years from the beginning of 17th century. There is an old joke saying "Having been a venue to produce money, Ginza ended up with the venue for people to spend money".
Although most of shops are open everyday till late in the evening, the best timing for tourists to go shopping is in day time especially on Sundays when the main street is closed to automobile traffic in the afternoon. On the other hand, Ginza shows different face of night-life entertainments in the evening through midnight on weekdays when there are many beautifully dressed hostesses working in the night clubs like geisha in modern style.
Getting there
Ginza station of Tokyo Metro Ginza Line, Marunouchi Line or Hibiya Line
13. Kabukiza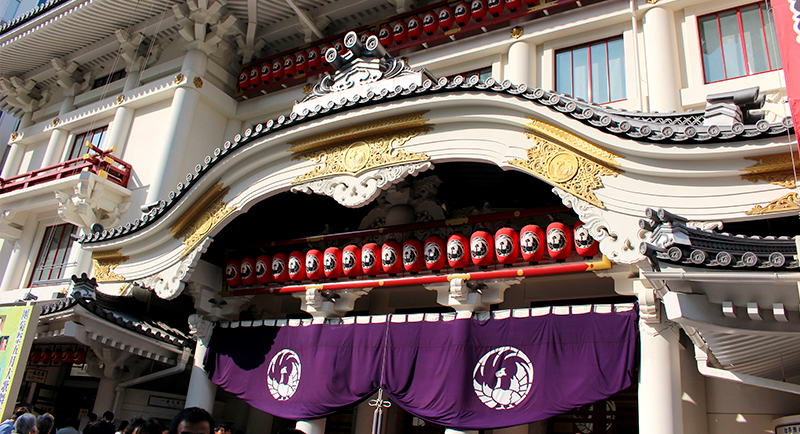 Kabuki is a classical Japanese dance-drama was selected as an important intangible national cultural property in 1965.
Kabukiza (歌舞伎座) is the Kabuki theater and one in Higashi Ginza was originally build in 1889 but burnt down several times by fire, earthquakes and air-raids during WW2.
The current Kabukiza was reconstructed in 2013 deploying advanced technology to cope with fire and earthquakes inside while keeping the traditional appearance in a baroque Japanese revivalist style outside.
The performances are run almost every day and tickets are sold for single act or each play in its entirely. Captioning device in English is available for single act viewers. A set of plays and dances are performed twice (or three times) a day and they are repeated on a daily basis for a month with the new program starts in the beginning of the new month.
Getting there
Exit No. 3 of Higashi Ginza Station of Tokyo Metro Hibiya Line or Toei Asakusa Line
14. Roppongi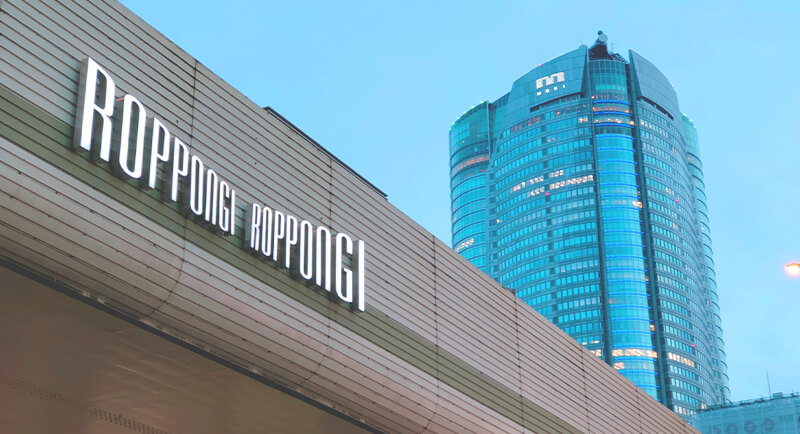 Roppongi (六本木) is a district very popular for nightlife among international visitors with a large number of foreigner friendly bars, restaurants and night clubs. On the other hand, many global leading enterprises choose Roppongi as the location of their bases in Japan and so do the embassies, Roppongi and its surrounding districts of Azabu, Hiroo and Akasaka become prestigious residential areas and home of a large expat community.
A series of recent redevelopment projects such as Roppongi Hills, Tokyo Midtown and artistic facilities of The National Art Center, Mori Art Museum and Suntory Museum of Art have changed the atmosphere of Roppongi and start attracting wider range of visitors and residents with their elegant and artistic offices, shops,
residential spaces and luxury hotels.
Getting there
Roppongi Station of Tokyo Metro Hibiya Line or Toei Oedo Line
15. Meiji Jingu Shrine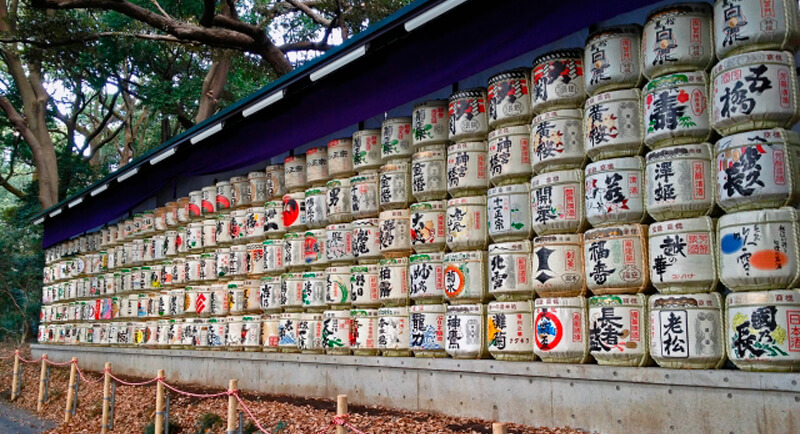 Meiji is a name of the era led by Emperor Meiji, the first emperor of modern Japan, having ascended to the throne in 1867 after Tokugawa Shogunate or Japan's feudal era came to an end.
Having noticed Japan was way behind of industrialization compared to US and European countries, Emperor Meiji powerfully promoted Japan's modernization and westernization to join the global major powers by the time Emperor Meiji passed away in 1912. With Japan's rapid growth and remarkable modernization by his leadership, the era is referred to as Meiji Restoration.
Meiji Jingu Shrine (明治神宮) is a shrine dedicated to the spirits of Emperor Meiji and his spouse Empress Shoken and was built in 1920, 8 years after the passing of the emperor and 6 years after the passing of the empress. Approximately 100,000 sapling trees were planted during the shrine's construction and were donated from regions across the entire country. Nearly 100 years having passed, they are now well grown to configurate Meiji Jingu Shrine's huge forest.
The main entrance of Meiji Jingu Shrine is nearby very busy Harajuku, popular fashion and shopping district among youngsters. It takes about 20 minutes on foot to reach the main complex of shrine after entering from Harajuku entrance. On the way to the main complex, there are more than 200 sake barrels and 60 wine barrels displayed on both sides of the approach as a symbol of Wa kon you sai or "fusion of Western culture and Japanese soul".
Getting there
1 minute walk from Harajuku station of JR Yamanote Line or Meiji-Jingu-Me station of Tokyo Metro Chiyoda Line or Fukutoshin Line
Open Hours
They change the open / close time depending on the season. Open when the sun rises and close when the sun sets. Please check their website (Requires Flash).
Fee
Free
16. Shibuya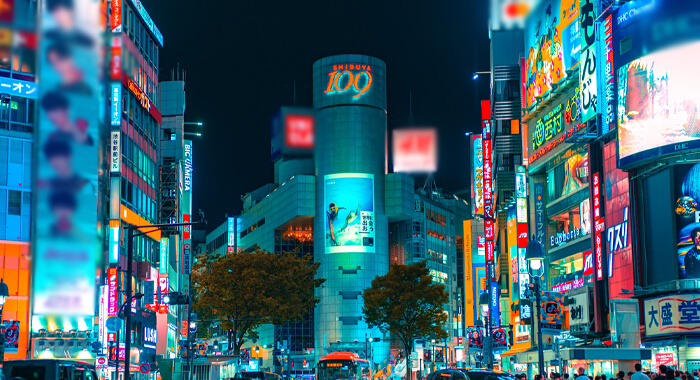 Shibuya (渋谷) is one of the most popular shopping and entertainment areas in Tokyo packed with shopping, dining and nightclubs. This district attracts particularly youngsters and is referred to as a center of youth fashion and culture.
Besides the shops, boutiques and department stores where the trends of fashion and entertainments are born, the most famous place in Shibuya is the large intersection in front of Shibuya station. This "crazy junction" became known worldwide through the movie "Lost in Translation". The intersection become a big
party place in such occasions as Halloween and New Year Eve and in the former case, all the streets around the intersection are packed by weird looking youngsters wearing anime characters and so on.
The most popular meeting place in Shibuya is Hachikou-mae square between Shibuya station and crazy junction. "Hachikou" is the name of a dog born in 1923 in Akita Prefecture. Hachikou was owned and kept by Professor Ueno of Tokyo University living in Shibuya. It was Hachikou's daily routine to see Ueno-san off in the
morning and welcome him back in evening at Shibuya station and even after Ueno-san died at 63 years old in 1925, Hachikou kept his routine every day waiting for the master of no return in rainy season, snowy winter and hot and humid summer for about 10 years until Hachikou died in 1935. In the center of Hachiko-mae square, there is a bronze statue of Hachikou having been built by Ueno-san's neighbors as commemoration of Hachikou's royalty and now has become the symbol of Shibuya.
Getting there
Shibuya station of JR Yamanote Line, Tokyo Metro Ginza Line, Hanzomon Line or Fukutoshin Line
17. Harajuku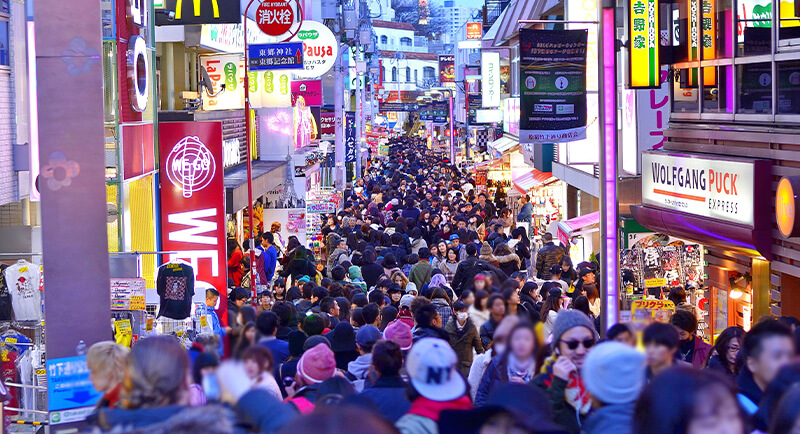 Harajuku (原宿) is the district around Harajuku Station between Shibuya and Shinjuku on JR Yamanote Line. Although neighboring very authentic and historic place of Meiji Jingu, Harajuku is the center of teenagers' fashion and cultures in Japan.
The main street in Harajuku is Takeshita Dori street. Takeshita Dori combined with its connecting side streets are packed by fashion/trend conscious teens visiting fashion boutiques, trendy shops, crepe stands and used clothes stores in the district.
In the south of Takeshita Dori, there is a broad tree-lined avenue called Omotesando. The stores and shops on Omotesando are famous brand shops and first-class restaurants, some of them are designed by famous architects, and the visitors here are naturally more adult.
Getting there
Harajuku station of JR Yamanote Line or MeijiJingu-Me station of Tokyo Metro Chiyoda Line or Fukutoshin Line
18. Tokyo Sky Tree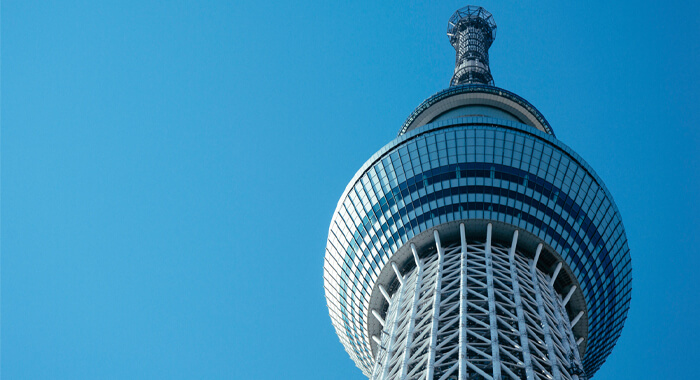 Tokyo Skytree (東京スカイツリー) is one of the newest landmarks in Tokyo having started TV broadcasting operations in 2012 replacing the function of Tokyo Tower. It stands on the other side of Asakusa across the Sumida River.
With the height of 634m, just more than 300m higher than Tokyo Tower, Tokyo Skytree claims itself to be the tallest self-supported steel structure in the world or the second tallest in any category next to Burge Khalifa in Dubai.
The must-do at Tokyo Skytree is to take a lift up to two observation decks at height of 350m and 450m respectively offering spectacular views over Tokyo. Having dinner or lunch at the restaurant on the first observation deck called 634 or Musashi named after old name of the region as well as the height of the Tower in meter can be good idea.
Although a big earthquake occurred in 2011 during the construction of the Tower, there was no damage to the Tower at all. The Tower deploys an earthquake resistant structure with lighter outer structure and the heavier inner core moving separately to offset the quake which is basically same system applied to more than 1000 years old five storey pagodas in Kyoto and Nara.
At the base of the Tower, a large shopping mall called Soramachi or "Sky Town" in Japanese and Sumida Aquarium are located.
Getting there
Tokyo Sky Tree station of Tobu Sky Tree Line or Oshiage station of Tokyo Metro Hanzomon Line
Open Hours
Open 8 am Close 10 pm
Fee
You need to buy ticket. There are many options. Please see their website.
19. Tokyo Tower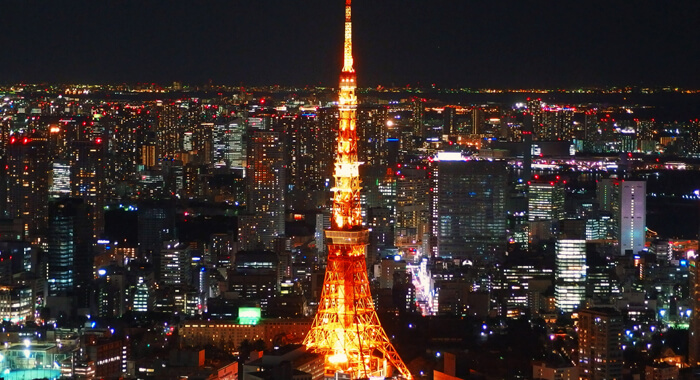 Tokyo Tower (東京タワー) had been the symbol of Tokyo for long time since 1958. The height of 333m was high enough to cover broad casting sysytem in the greater Tokyo area until when the number of high rising buildings were built; however, in 2012, its main function was taken over by Tokyo Skytree with height of 634m. Compared with Eiffel Tower in Paris, although Tokyo Tower is heigher by 9m but when it comes to the weight, it weighs only about half of Eiffel Tower coping with frequent earthquakes in the country.
Getting there
5 minutes walk from Akabanebashi station of Toei Oedo Line, 7 minutes walk from Kamiya cho station exit 1 of Tokyo Metro Hibiya Line, 6 minutes walk from Onarimon station A1 eixit of Toei Mita Line
Open Hours
Open 9 am Close 11 pm
Fee
2,800 yen (senior high school students or older)
1,800 yen (junior high school students and primary school pupils)
1,200 yen (children 4 years old and over)
20. Tokyo Disney Resort
Tokyo Disney Resort (東京ディズニーリゾート) is a theme park and vacationresort located in Urayasu, Chiba, Japan. The resort opened in 1983 with Tokyo Disney Land only but developed into two theme parks adding Tokyo Disney Sea in 2001, about 10 large hotels and a shopping mall. Tokyo Disney Land was the first Disney theme park opened outside the United States.
Getting there
Maihama Station of JR Keiyo Line or Musashino Line
Open Hours
Open 9 am ( Weekend and Japanese National Holiday 8 am) – Close 10 pm
Fee
There are many options, please check their website.
21. Yasukuni Shrine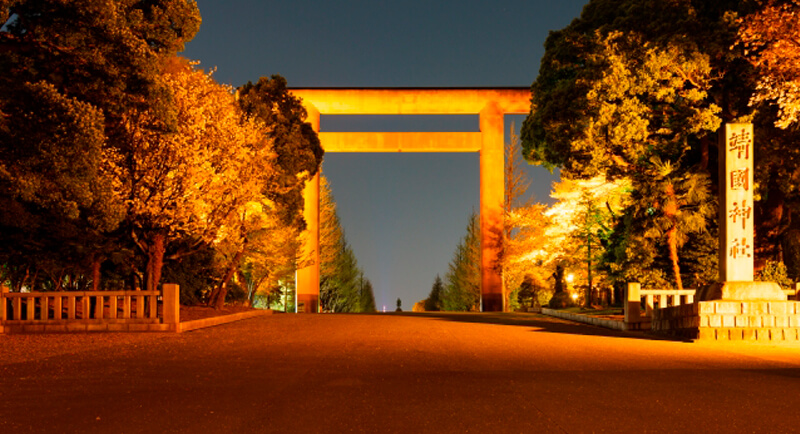 Yasukuni Shrine (靖国神社) is a Shinto Shrine located just north of the Imperial Palace. The Shrine was founded in 1869 by Emperor Meiji to enshrine those who died in service of Japan from various wars ranging from those civil wars in the beginning of Meiji Restoration in late 18th century to the World War II in the mid of 20th century.
The Shrine lists the names, origins, birthdates and death places of approximately 2.5 million human beings and pet animals including 14 A-Class war criminals convicted of having been involved in the planning, preparation, initiation or waging of WW2. This has led to many controversies surrounding the shrine especially among those Asian countries having been invaded by the Empire Japan during the WW2.
Yasukuni Shrine attracts more than 500,000 visitors in the spring time when about 500 cherry or Sakura trees bloom at the same time. One of the Sakura trees is designated as the Index Tree of Tokyo based on how the flowers of this particular tree start blooming represents the blooming of Sakura in entire Tokyo.
Getting there
5 minutes walk from exit No. 1 of Kudanshita station of Tokyo Metro Tozai Line, Hanzomon Line or Toei Shinjuku Line
Open Hours
Open 6 am – Close 5 pm (Jan. Feb. Nov. Dec.) 6 pm (Mar. – Oct.)
Fee
Free
22. Kabukicho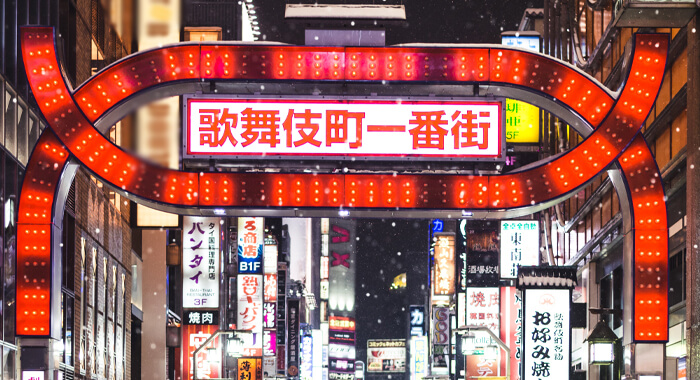 Kabukicho is located near Shinjuku station and often called the "sleepless town" having more than 3,000 entertainment facilities such as host and hostess clubs, night clubs, love hotels and so forth.
Kabukicho has become popular among international tourists visiting bars and restaurants on Golden-Gai or "Golden Town", restaurants and museums featuring robots, samurai and so forth.
Kabukicho's name came from the fact that there was a plan to build Kabuki Theater in the district in late 1940's to restore the town after the air-raid during WW2. The Kabuki Theater was never built but the name remained.
Getting there
Shinjuku station East exit of JR Yamanote Line, Chuo Line, Soubu Line, Tokyo Metro Marunouchi Line, Toei Shinjuku Line
The best way to explore Tokyo attractions
For visiting the foregoing 22 must-visit places in pleasant manner, the best way is to join bicycle tours guided by people who know what Tokyo is all about. Tokyo Great Cycling Tour has been pioneering bicycle tours in Tokyo since 2006 and can provide you with deep insight Tokyo experience.
Related article
15 Tokyo Travel Tips – Transportation, Internet, Shopping, & Etiquette