Akira
Loves climbing, cycling, running, skiing, and also Real estate, architecture, wife and drinking alcohol :) We really want you to experience discovering Japan with us!! See ya!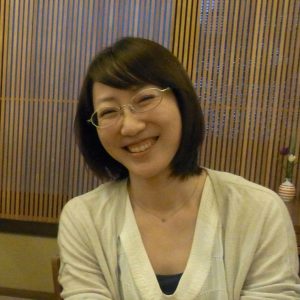 Ayumi
Grad student in Tokyo. Loves looking around flowers and greens, such as hydrangea in June, yellow turned ginko trees in autumn. Please enjoy cycling Tokyo around, any season you will find something to see and discover.


Carlos
Bike, ski, golf, wine and cachasa are his favorite things.
Carlos's favorite restaurant in Tokyo.



Etsuko
Loves being outdoors, absorbing the sun!
A great fan of Kodo (Japanese drumming group) and fresh oysters 🙂
Etsuko's favorite restaurant in Tokyo


Hana
Love eating, drinking, cooking and reading books(especially Haruki Murakami). Also a great fan of sumo.
Looking forward to share fun time with you!!


Haruna
Speaks good English and Chinese with a 'kawaii' smile ! She loves skiing, scuba diving and also cooking !


Kazu
Enjoying his retired life playing tennis and cycling ! If you want to play tennins during your staying in Tokyo, he is the one to ask to play with!
Kazu's Favorite restaurant in Tokyo.


Kozue
Loves flowers, gardens, travels and cooking. Look forward to sharing wonderful time with you in exploring in Tokyo.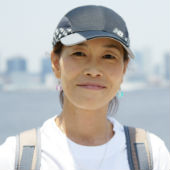 Mana
Enjoy dancing, skiing, visiting art museums, eating and making sushi and exploring first-time places on a bike.
Look forward to discovering something new about Tokyo with you!



Masa
Lives in Tokyo whole his life. He likes Tokyo and also likes going out from Tokyo. Loves drinking at a sports pub while watching sport events on TV screen. His ambition is that Cameron Diaz would take this bike tour someday in the near future!!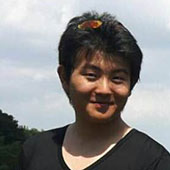 Mike
A college student who lives in Tokyo. Loves anime, games, books, and other Japanese sub culture. But also loves to exercise and work outside. Recently he has earned his black belt in Judo.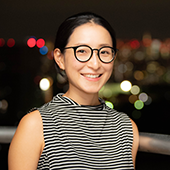 Misato
Loves running, marathon, visiting museums/galleries, and simply exploring the city.
Let's discover Tokyo while cycling and running!


Naoko
I like travelling, hiking, skiing, scuba-diving, and hot spring bath afterwards. Exploring Tokyo on a bike is always exciting! Chaya Guiding & Tours (http://www.chaya-tours.com/) is her own tour company.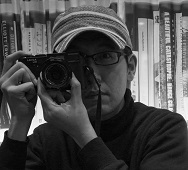 Neno
Loves taking photos, Japanese comics,running and beer! He also is a guide of TGRT.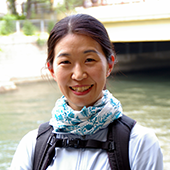 Pan
Loves travelling, wandering about in narrow streets (and being lost) and finding the best places in the end! Looking forward to sharing a wonderful time with you cycling in the heart of Tokyo!


Su
Loves marathon and plays ukulele ! She's operating ★Tokyo Great Running Tour. Su's favorite restaurant in Tokyo.


Takashi
I like to enjoy Thai food with Belgian beer after swimming. I also love classical music. I would play trumpet upon request, so you could enjoy a mini concert after tour!



Tomo
Enjoyed staying in Auckland, New Zealand and Berkeley, U.S.A. He is enjoying singing songs as a member of the amateur chorus.


Tomomi
Loves to be outside doing things like gardening, hiking, walking and cycling. Going grocery shopping on her bicycle is her favorite choir, if not cooking itself!
Just loves her carrier as a guide, for it is a constant learning from new friends and her own culture!
Please check her website TokyoTours with Tomomi.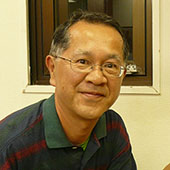 Toshi
Please call me Toshi or "Sushi!" I moved back to Tsukiji after staying in Osaka for 10 years and in New York for 15 years. I enjoy travelling, hiking, eating local cuisine, and of course, bicycling! I am always fascinated when I encounter unfamiliar narrow streets (roji) and quaint old houses. Let's explore Tokyo, and find and feel Old and New Tokyo by bicycle together!!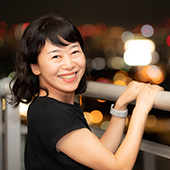 Yakko
Loves Japanese traditional things such as Tea ceremony, Kimono, Sumo and Sake! Looking forward to showing you new aspects of Japan. She is running her own tour. Please see this page!


Yukiko
Loves being on the two wheels all year round and also loves being on the two plates when it snows. Cycling around Tokyo as a guide of TGCT with fun and nice people is always her extreme happiness!
Yukiko's favorite restaurant in Tokyo.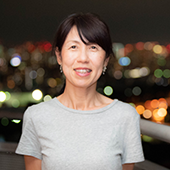 Yukko
Loves hiking, jogging, cycling and watching sports especially "Sumo"!!
Always joins Sumo events such as watching morning practice, formal tournaments.
Looking forward to exploring Tokyo with guests come from all over the world
by bike.