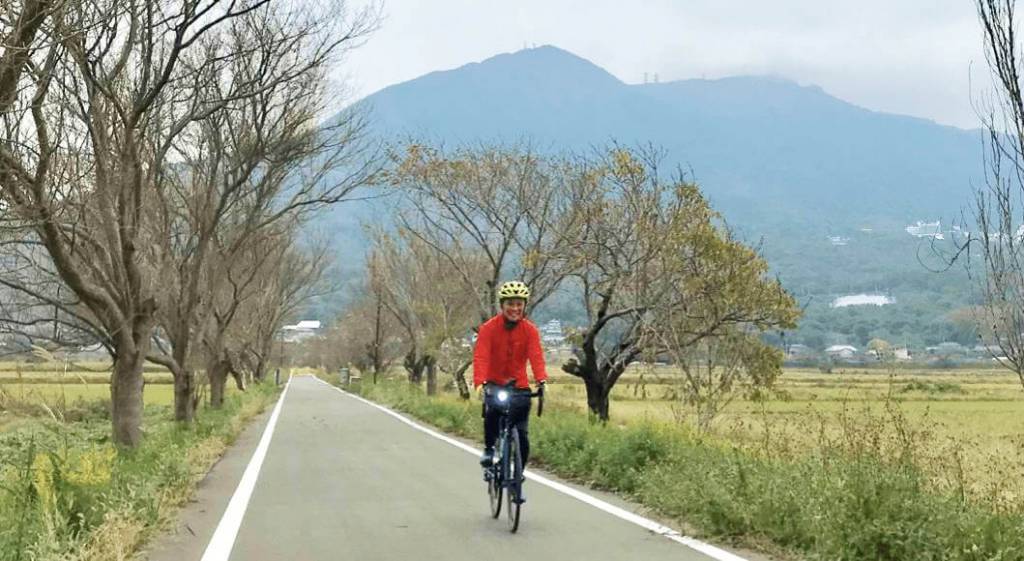 Japan is seen as a high-tech county with a majority of travelers visiting Tokyo and other big cities for business. As a result, nice outdoor activities in Japan have not been popular until recently.
Not so many travelers know that even in Tokyo there are quite a few dedicated bike lanes and more are now being constructed before 2020 Olympic games. Also Japanese drivers are reasonably gentle and careful to cyclists, so it is much easier to navigate and explore Japan by bicycles than you may imagine.
Recently Japan's rich nature and countryside has started to be known worldwide and to attract many overseas tourists. Powder snow in Hokkaido, Nagano and another areas in North, beautiful white beaches in Okinawa and other islands in South as well as pilgrim walking trails in the deep mountain in the West are just some of Japan's many attractions.
In addition to these, enthusiastic cyclists have started to see Japan as one of the best cycling holiday destinations.
Taking this opportunity, Kazumasa Nitta (Kazu), a guide of Tokyo Great Cycling Tour who has explored the whole of Japan on two wheels is happy to share and introduce his recommended cycling routes for those planning to visit Japan for cycling. He will also tell you about tips and rules while cycling in Japan besides his recommendations for cycling routes in Japan.
Best Cycling Routes in Japan
"It's really hard to choose only 10 routes from decades of my cycling trip experience!" Kazu said. Below is TOP 10 cycling routes he chose after lots of time considering and reviewing his real experience.
1. Shiretoko Peninsula Cycling Route between Rausu and Utoro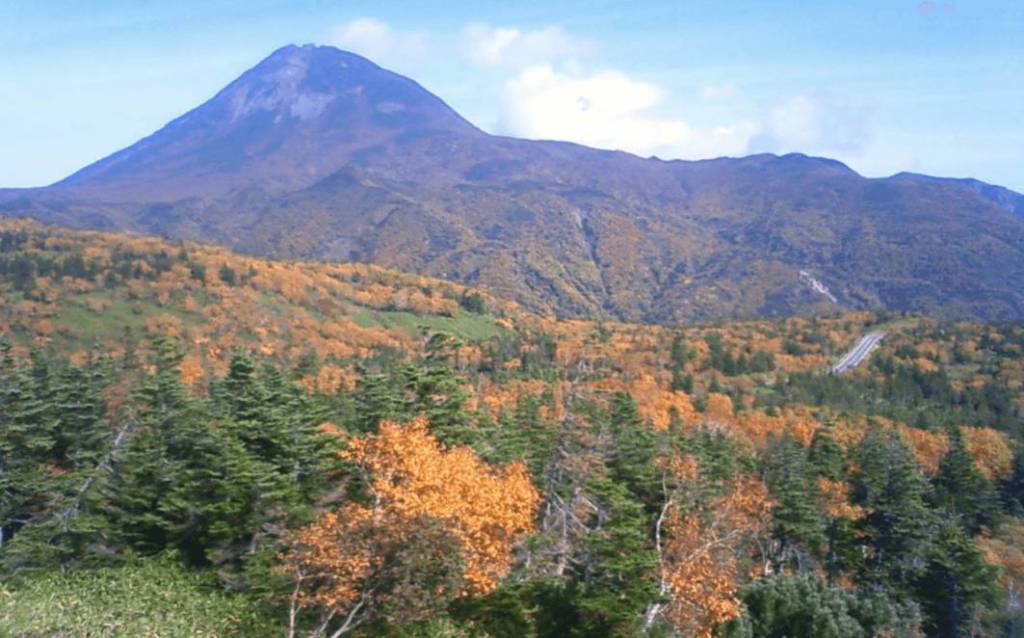 | | |
| --- | --- |
| Prefecture | Hokkaido |
| Distance | 33 km |
| Accumulated Elevation | 740 m |
| Recommendation | ★★★☆☆ |
| Difficulty | ★★★☆☆ |
| How to access | Ride or take a bus from Shari Station of JR Senmo Line |
This route is in the middle of Shiretoko National Park, a world natural heritage site. You can start from Rausu, a small fishermen's town where you enjoy fresh seafood and Onsen hot springs.
By climbing up the Shiretoko Pass, you will be welcomed by panoramic views on your way to the peak.
The ride can also be extended to visit beautiful Shiretoko five lakes.
Last but not least, Shiretoko is famous for habitats of wild brown bears; please be aware of them!!
2. Mountain Cycling Route between Kakunodate and Kazuno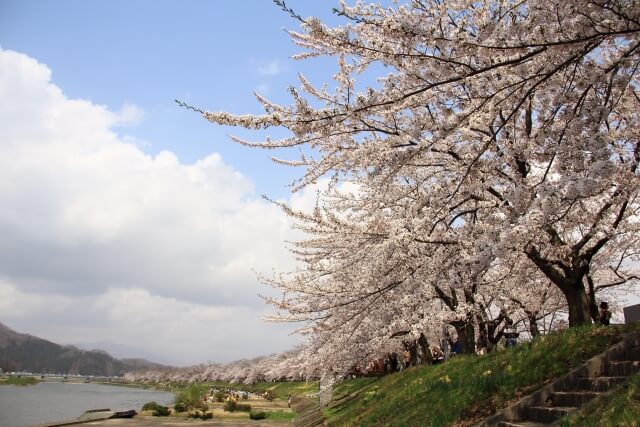 | | |
| --- | --- |
| Prefecture | Akita and Iwate |
| Distance | 108 km |
| Accumulated Elevation | 960 m |
| Recommendation | ★★★☆☆ |
| Difficulty | ★★★★★ |
| How to access | Kakunodate Station of JR Akita Shinkansen Line Kazuno Hanawa Station of JR Hanawa Line |
This route is in the Towada Hachimantai National Park.
You can start from Kakunodate, an old castle town where Samurai's houses are preserved. You ride along beautiful shores of Lake Tazawa, a crater lake and the deepest lake in Japan.
As you take Route 341 and go up hill, you start smelling sulfur because of hot springs in the area.
There is an intersection with Hachimantai Aspite Line, a mountain road, the best for those who like hill climbs but beware of black bears along the route.
3. Tsukuba Ring-Ring Cycling Road between Iwase and Tsuchiura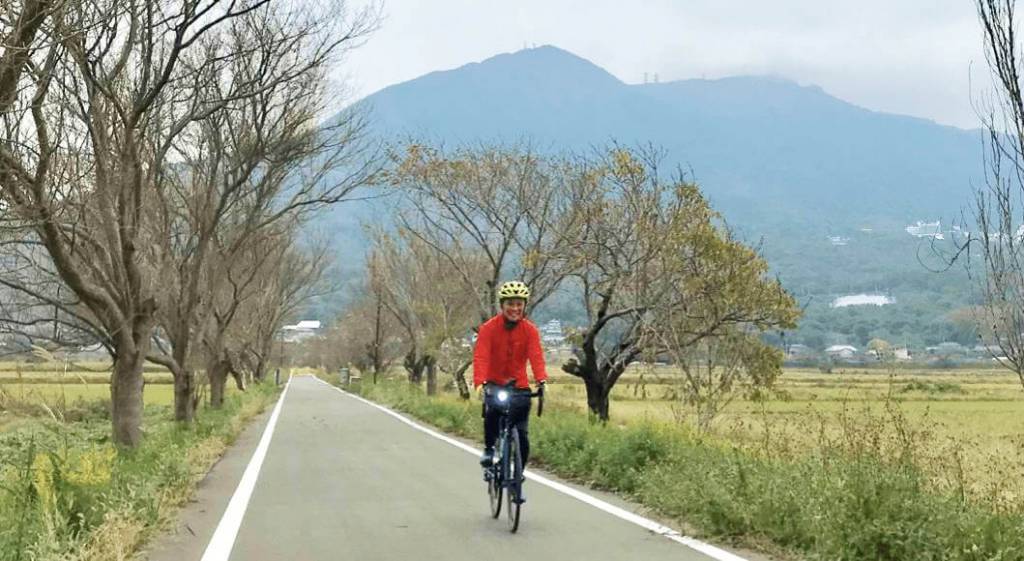 | | |
| --- | --- |
| Prefecture | Ibaraki |
| Distance | 41 km |
| Accumulated Elevation | 55 m |
| Recommendation | ★★★☆☆ |
| Difficulty | ★☆☆☆☆ |
| How to access | Tsuchiura Station of JR Joban Line |
This route is in about 70 km northeast of Tokyo. You can go to Iwase by train in about 1.5 hours from Tokyo area and go on Tsukuba Ring-Ring Cycling Road built on abandoned railway track.
As you ride, you start to see Mt. Tsukuba having been worshiped by Japanese people for many years.
The route ends at Tsuchiura City and in order to promote cycle tourism, many facilities for cyclists in Tsuchiura Station have recently been constructed including bike parking, shower rooms, bike shops, rental bikes, cyclist hotels, restaurants and so on.
4. Hanamigawa and Inbanuma Cycling Road between Makuhari and Ajiki
| | |
| --- | --- |
| Prefecture | Chiba |
| Distance | 49 km |
| Accumulated Elevation | Mostly flat |
| Recommendation | ★★★☆☆ |
| Difficulty | ★☆☆☆☆ |
| How to access | Kaihin Makuhari Station of JR Keiyo Line Ajiki Station of JR Narita Line |
Among several cycling roads in Tokyo and its neighborhood, Hanamigawa cycling road is one of the best due to its variation of sceneries.
You can start riding along Hanamigawa Cycling Road from Kaihin Makuhari not so far from Tokyo Disney Land about 30 km east from Tokyo with easy access by train.
Shortly after the departure, you go into dark green valley and then open field of Inbanuma swamp.
5. Mountain Cycling Route between Hakuba and Nagano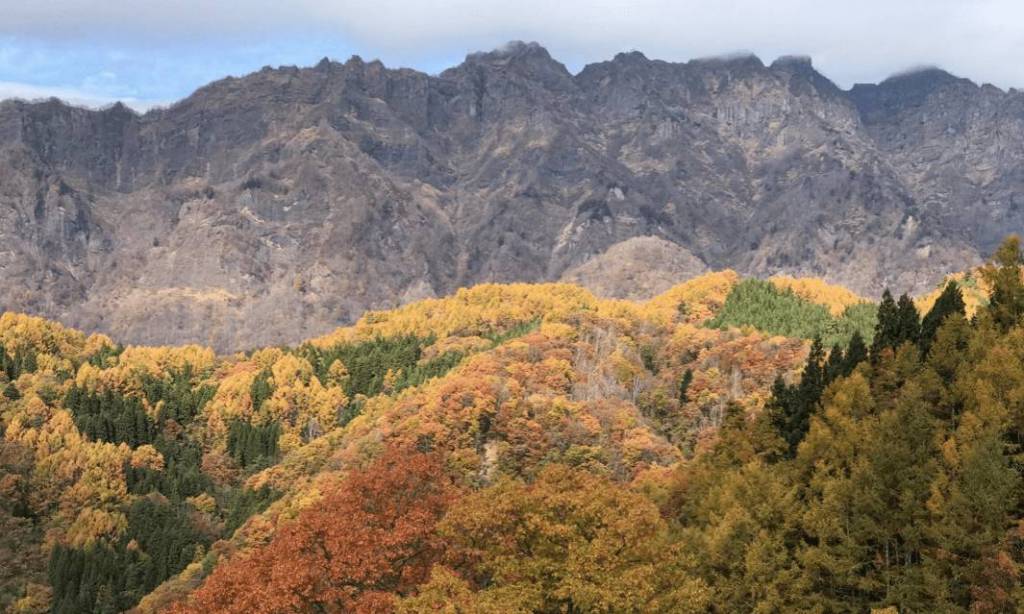 Prefecture
Nagano
Distance
58 km
Accumulated Elevation
940 m
Recommendation
★★★★★
Difficulty
★★★★☆
How to access
Hakuba Station of JR Oh-ito Line
Nagano Station of JR Hokuriku Shinkansen Line
You can start from Hakuba, a well-known ski resort for powder snow in the winter.
As climbing up Minekata Pass, you will see magnificent view of the Japanese Northern Alps from the peak.
You ride through small villages in the mountains and climb the second pass called Taibo Pass where you see awesome panoramic views of Alps and Mt. Togakushi.
You can also extend your ride to Togakushi Shrine and have soba (buckwheat noodle) for lunch in the area.
6. Noto Seashore Cycling Route between Kanazawa and Wajima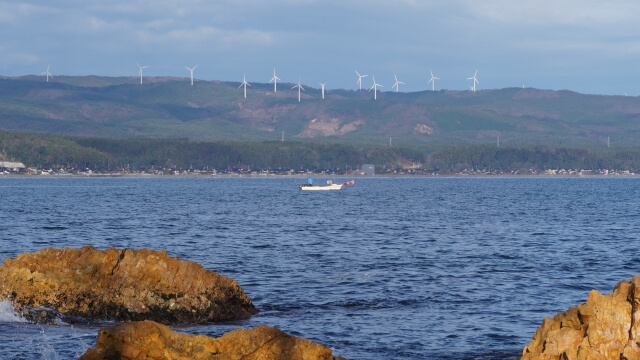 Prefecture
Ishikawa
Distance
132 km
Accumulated Elevation
460 m
Recommendation
★★★☆☆
Difficulty
★★★☆☆
How to access
Kanazawa Station of JR Hokuriku Shinkansen Line
Ride or take a bus from Anamizu Station of Noto Railway
You can start from Kanazawa City, an old castle town famous for Kenrokuen, one of the best Japanese gardens and Kaga cuisine.
You cycle along Noto Kaihin Cycling Road, a bike path along Japan Sea shores with beautiful ocean views.
The route goes up and down after Shiga Town through small fishermen's villages of local traditional houses with shining black roof tiles.
The route ends at Wajima City famous for Wajima-nuri, high quality hand-made lacquer-ware.
7. Biwa-ichi Route around Lake Biwa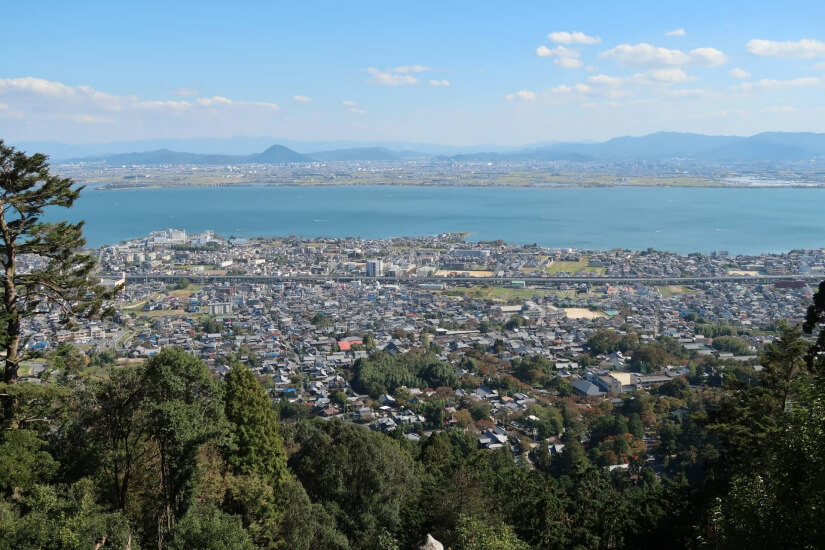 | | |
| --- | --- |
| Prefecture | Shiga |
| Distance | 192 km |
| Accumulated Elevation | Mostly flat |
| Recommendation | ★★☆☆☆ |
| Difficulty | ★☆☆☆☆ |
| How to access | Oh-tsu Station of JR Tokaido Line |
Lake Biwa is the biggest lake in Japan located nearby Kyoto, an old capital with many historic castles, temples and Shinto shrines.
Going around the lake is almost 200 km, a distance that can be traveled in one day for experienced cyclists but let me recommend you spend a few days to visit Hikone Castle, Mt. Hiei with Enryakuji, a 1200 years old Buddhism temple and Chikubujima, an small island with an old Shinto shrine in the lake.
Shiga municipal government is promoting cycle tourism in the area and the facilities for cycling have been dramatically improved these days.
8. Shimanami-kaido between Onomichi and Imabari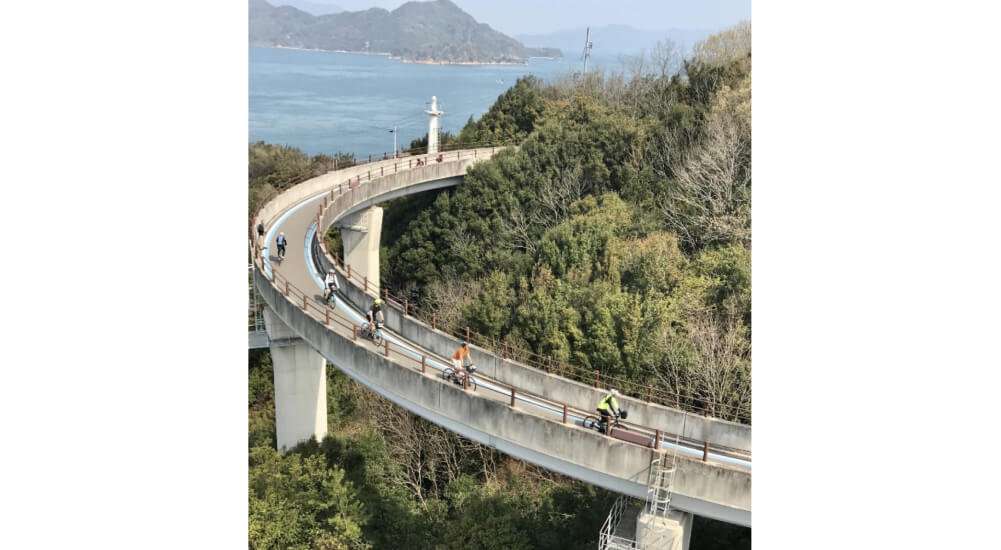 Prefecture
Hiroshima and Ehime
Distance
83 km
Accumulated Elevation
430 m
Recommendation
★★★★☆
Difficulty
★★★☆☆
How to access
Onomichi Station of JR Sanyo Line
Imabari Station of JR Yosan Line
Shimanami-kaido is the most famous and popular bike route in Japan attracting cyclists from all over the world.
There are six islands along with Shimanami-kaido and each of them is connected by big highway bridges where panoramic views of Setouchi Inland Sea can be enjoyed. ("Kaido" literally means "the road on the sea".)
Bike paths are on all the bridges, safely segregated from cars and its climbing angles are not so steep so anyone can go up easily.
When you feel tired, you can easily find such resting points as restaurants, coffee shops, ice-cream shops and so on along the route.
9. Shimanto River Cycling Route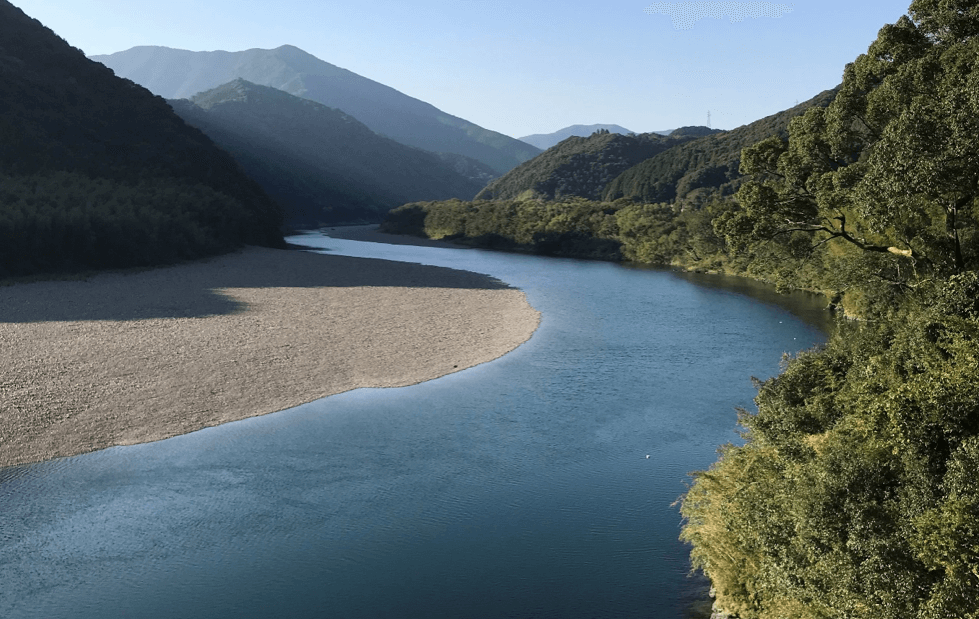 | | |
| --- | --- |
| Prefecture | Kochi |
| Distance | 118 km |
| Accumulated Elevation | 590 m |
| Recommendation | ★★★☆☆ |
| Difficulty | ★★★☆☆ |
| How to access | Nakamura Station of Tosa Kuroshiro Railway |
There is not a single dam along the entire 196 km length of Shimanto River.
As the nature in the river has been preserved, you can see the original scenery of a Japanese river that has been lost in many other places.
You can start from Shimanto City, a gateway to the river and take Route 439 going up Shakushi Pass through cypress forests.
You will enjoy going downhill to a path hitting the small town of Taisho and then take Route 381 and Route 441 along the river back to Shimanto City with gorgeous river views.
10. Yakushima Island Cycling Route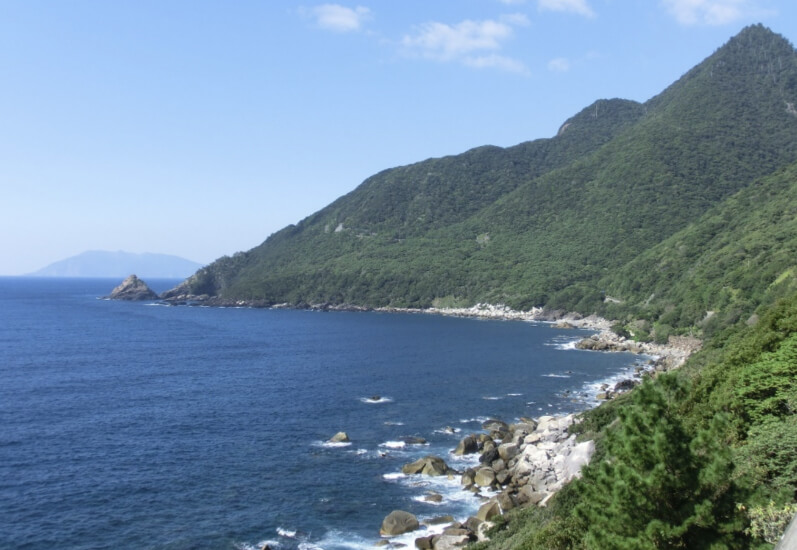 | | |
| --- | --- |
| Prefecture | Kagoshima |
| Distance | 96 km |
| Accumulated Elevation | 930 m |
| Recommendation | ★★★☆☆ |
| Difficulty | ★★★★☆ |
| How to access | Yakushima Airport Hydrofoil or Ferry Boat from Kagoshima Port |
The very mountainous Yakushima island is in a National Park and was registered as the World Natural Heritage in 1993.
The mountains in the island headed by Mt. Miyanoura-dake, the highest mountain in Kyushu, is covered with rich natural forest of huge cypress trees that are over 1000 years old.
The route I recommend is going around the island, while I suggest you try hill climbs to Hakusuiunsuikyo, a valley in the forest and take a close look at Kigen-sugi, a 3000 year old cypress tree.
Cycling Rules & Tips in Japan
Each country has different traffic rules. And if you know the tips mentioned below, your cycling holiday in Japan will be less stressful and more fun!
Keep Left in Single File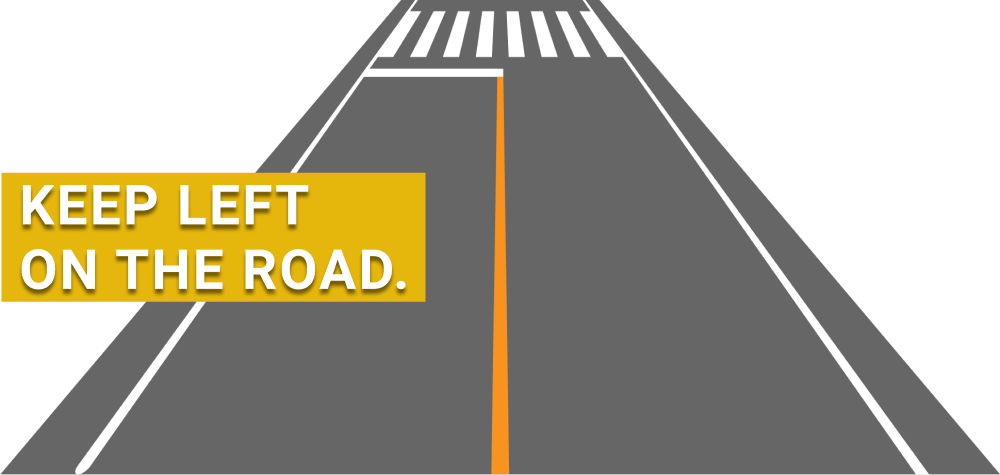 Cars and bikes need to keep left on the road. On the sidewalks please stay at the road side but remember pedestrians always have priority. (Riding bicycles is prohibited on narrow sidewalks. You need to check if there is a sign.)
You need to look right first when you stop at the corner or stop signs as cars and motorcycles come from this direction.
Stop Signs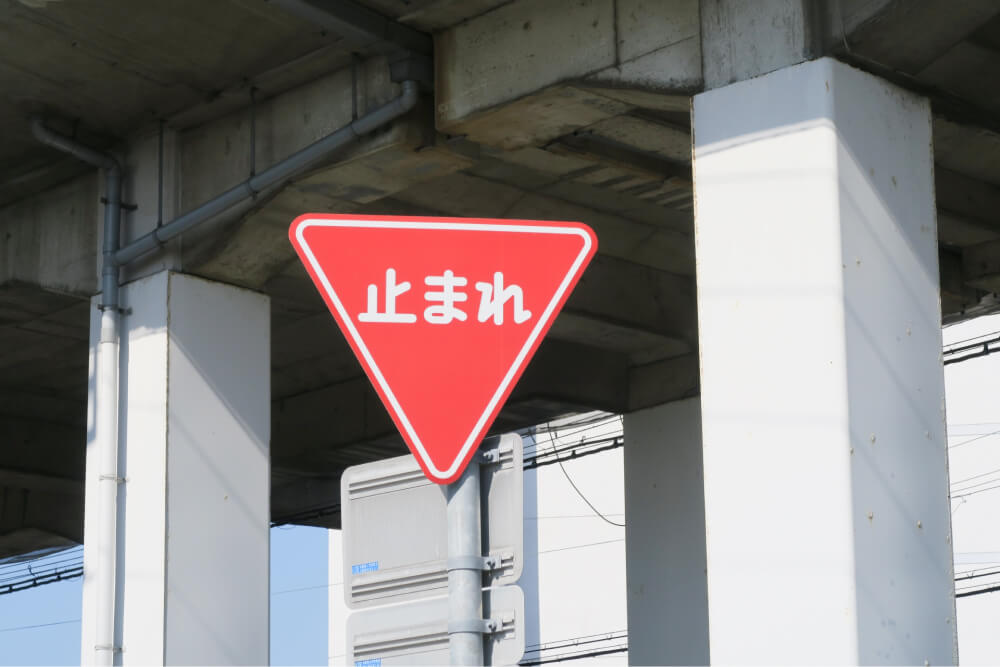 Stop and give a way to the cars, bikes or pedestrians on the other street when you see the stop signs. Stop signs are red inverse triangle shape as shown.
"Rinko" or Travelling by Public Transportation with Bicycles
mont-bell
You need to put your bike in a purpose-made bag called "Rinko Bag" when you use public transportation such as trains and buses unless otherwise noticed.
Specially designed "Rinko Bags" are available at bike shops in Japan nationwide.
Bike Helmets
Wearing helmets when biking is NOT legally required in Japan.
However, for your own safety, it is highly recommended to wear them especially when you ride under slippery road conditions after rain, or go on the road at relatively high speed and so forth.
Phones and Music
Talking over phones, looking at smartphones, listening to music by earphones/headsets or alike while riding bikes are legally prohibited in Japan.
Please be careful.
Brakes
The bikes in Japan have rear brakes on left hand side and front ones on right which may be opposite from the ones at your home.
Please, therefore, check them before start pedaling when you rent bikes in Japan.
Best Bike Tour in Japan
We hope you will enjoy cycling in our beautiful country, Japan, in both countryside and urban area!
If you visit Tokyo, you had better check what Tokyo Great Cycling Tour (TGCT) offers.
TGCT, the most popular guided bike tour in Tokyo since 2006, is providing more than 8 different tours – both full day (circa 6 hours) and half day (circa 2.5 hours) ranging from those visiting major tourist spots to ones discovering nice hidden gems in Tokyo suitable to the firs-time travelers and many-time repeaters.
TGCT is happy to customize dedicated private tour for your group as well.
You just follow English speaking local friendly guides and enjoy the bike ride, which includes a wide-ranged insight and tips about Tokyo and Japan, Japanese snacks or lunch (on the full day tour) and many more highlights without worrying about traffic or losing your way in this big city.
TGCT is more than happy to accommodate and respond to your ideas for your next cycling trip in Japan!
Check out informative & fun bike tours.